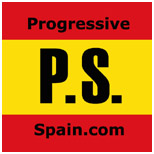 Progressive Spain is an online news and information portal focused on progressive issues, activism and politics in contemporary Spain.
Progressive Spain's mission is to delivers news, insightful opinion, analysis and actionable information to a progressive-minded readership among the more than 800,000 native-English speakers resident in Spain. English speakers and readers worldwide will also find a consistently progressive perspective on compelling issues, non-governmental organisations, activism and political events at the national, regional and provincial levels throughout Spain.
News briefs summarizing a selection of stories that appear in English and/or Spanish of particular interest to a progressive-minded audience, along with information and links enabling readers to connect with non-governmental organisations, activist movements and parties on the broad left of the Spanish political spectrum, can easily be accessed through our online portal site, via E-mail or RSS feed subscription to regular updates and by following us on social media networks Facebook and Twitter.
In the future, we hope to add opinion and analysis pieces from a select group of regular contributors with in-depth experience and knowledge of specific issues, activism and the political landscape in contemporary Spain.
Progressive Spain is entirely not-for-profit and the portal subsists with neither advertising nor subscription revenue. Readers and subscribers to our regular news updates may rest assured that we do not sell, distribute or lease your personal information to third parties, for any reason whatsoever.
Michael Tangeman
Founding Editor, Progressive Spain
– – – – –
Michael Tangeman has more than 30 years' experience working in media and technology. As a news reporter, editor and foreign correspondent, his work appeared in The San Francisco Chronicle, The Chronicle of Higher Education, Infrastructure Finance & LatinFinance magazines, Latinamerica Press, In These Times and other media. Author of the book 'Mexico at the Crossroads', Michael holds a Master's degree in Latin American Studies. A dual national of the Republic of Ireland and the USA, he has lived and worked in Spain since 2010.